Explosion Proof Humidifier Hazardous Duty Fogging Industrial Fan Humidification Evaporative Cooling
NPJXE2000EXP Hazardous Explosion Proof Humidifier Fogging Cooling Explosion Proof Turbo 115v/230v 60Hz. 1Hp, 34 GPH, 3.000, CFM
NPJXE2000EXP Hazardous Explosion Proof Humidifier Fogging Cooling Explosion Proof Turbo 115v/230v 60Hz. 1Hp, 34 GPH, 3.000, CFM
Buyamag INC
Humidifier Wall Mount Industrial
$359.00
Temperature & Humidity Meter
$119.00
  Hazardous Duty Explosion Proof Turbo Humidifier Fog Cooling Fan
The turbo explosion proof humidifier is a highly specialized unit designed for operation in explosion-prone areas. These applications usually contain volatile dust or vapors. See the Certifications section for certification details.
Turbo hazardous are fogging fans are superior atomizers designed for a variety of commercial and industrial areas applications. They produce fog combined with powerful airflow, making them ideal for interior humidification, evaporative cooling, and chemical fogging. Components are UV stabilized and suitable for outdoor use.
This centrifugal atomizer produces billions of tiny, fog-like particles that evaporate quickly. The Turbo humidifier operates without the use of nozzles, high-pressure pumps, compressed air, or filtration, eliminating the need for constant repairs and maintenance.
The fogging output is adjustable and controlled by a flowmeter. Flowmeters require a water supply of 10 to 100 PSI. Units can also be fed using a metering pump or gravity feed system.
                                              Certifications:
ABB® Explosion-Proof motors are UL and CSA approved for the following hazardous locations:
Class 1, Group D locations containing volatile gases such as Gasoline, Hexane, Naphtha, Benzene, Propane, Alcohol, etc.
Class 2, Group F & G locations containing dust such as (F) Carbon Black, Coal or Coke Dust or Group (G) Flour, Starch, or Grain Dusts.
Features:
Nozzle-Free Atomization
Explosion Proof Motor
tiny fog-like particles evaporate quickly
Up to 34 GPH ( gallons per hour )

Pivoting Fogging Head
Powerful and Efficient
Centrifugal atomizer
UV stabilized parts

Rear-Feed Blade
Our exclusive blade design is a significant product development, enhancing reliability and performance.
ABB Explosion-Proof Motor
Industrial grade
For use in Hazardous Locations
Flowmeter Control Panel
Turbo XE direct feed units come with a flowmeter panel of your choice. These panels control the water flow rate and fogging output. They feature stainless steel construction and a clear polycarbonate flow rate scale for monitoring.

18-8 & 304 Stainless Steel Frame Materials
Polypropylene & Polyethylene Plastics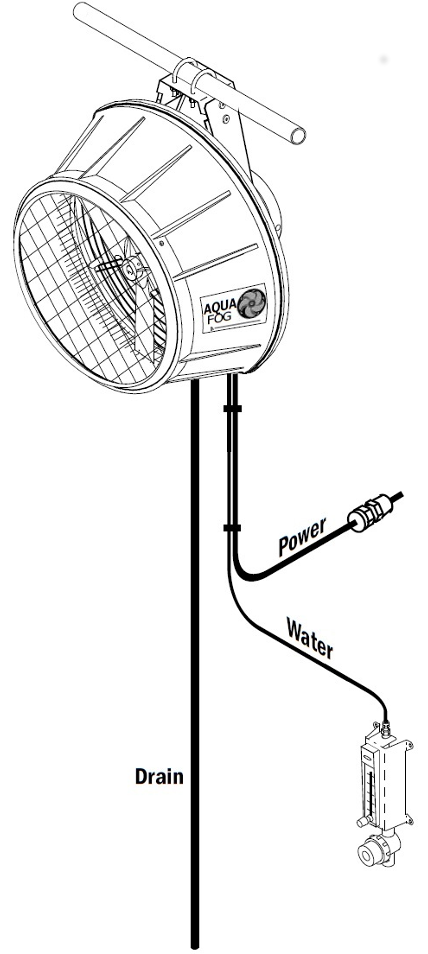 Dimensions:

Diameter 21 in / 53.5 cm

Depth 17.5 in / 44.5 cm

Height 25 in / 63.5 cm

Propulsion Distance:

30-35 ft / 10-11 m

CFM:
3,000
Noise @ 10 ft:

72 dB(A)

Average Particle Size:

5-10 microns @ low output

25 microns @ mid output

35 microns @ high output

Operation:

Continuous duty capability

Energy Consumption:

1/2 HP - 7.4/3.7A @ 115/230V

Hardware:
300 Series stainless steel
Shipping Weight:

Box 1, 19 lbs

Box 2 (1/2 HP), 32 lbs

Box Dimensions:

Box 1, 21" x 21" x 15"

Box 2, 16" x 12" x 12"

Environment:

Endures temperatures from
31° to 160° F

Indoors / outdoors

Humidity to 85% RH

UV stabilized & impact resistant